Welcome to Child Nutrition Services
Letter from Rachel Gekas, Our New Director of Child Nutrition Services
Dear Millbrae Community,
It is an honor for me to join the Millbrae Elementary School District as the Director of Child Nutrition Services. I am a born and raised Millbrae resident who not only went through the Millbrae District but have children attending our Millbrae Schools. My passion for nutrition is coupled with my vested interest in serving this wonderful community and our Millbrae students.
I bring with me 15 years of experience in School Nutrition where I advanced my career solely in Child Nutrition with my previous district. Those experiences have prepared me for this Director role here in Millbrae. I am excited to bring my passion for nutrition to this district. We all know hungry children cannot learn - our goal is to ensure our students are fed meals they will enjoy, that they visit our cafeterias because it is a place they want to be, and to ensure our students receive fun, informative nutrition education that will set them up for a healthy lifestyle.
I am grateful for this opportunity and am excited to connect with all our students whether that be during our meal service times, through nutrition events or in the classroom when we have the opportunity to provide nutrition education. We strive to be partners in your child's educational experience by ensuring they receive the nutrition they need to achieve academic success.
In good health,
Rachel Gekas, MS, RD
Director, Child Nutrition Services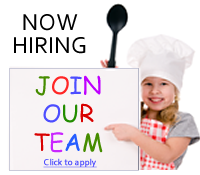 Join our Child Nutrition Services Team!
Click here to view open positions!
Apply online here!
Letter to Households 2021-22
All Millbrae Elementary School District students eat for free, but we need your help.
Dear Parent or Guardian:
Millbrae Elementary School District participates in the National School Breakfast and Lunch Programs by offering nutritious and satisfying breakfasts and lunches every school day.
For 2021-22, the District has some GREAT news and some CHALLENGING news:
Great: This year, ALL students can eat breakfast and lunch at school at no cost.
Challenging: Without your help, our schools could lose $1,643 to $1,785 per student in state instructional funding.
Some Background:
Due to the public health emergency, the United States Department of Agriculture has given schools the flexibility to operate the Seamless Summer Option (SSO) throughout school year 2021-22, and the District has elected to offer the SSO program.

The SSO program will enable all students to breakfast and lunch for free, regardless of household income level.

In light of this change, the District will not be collecting the Free/Reduced-Priced Meal Applications this year.
Our Plea to You:
We are asking all District families to complete a printed or an online Alternative Household Income Form.
Completion of the Alternative Household Income Form is optional, but please consider the following:

It's easy, with only 3 steps that can be completed in under 2 minutes.

The form only asks for essential information required by the National School Lunch Program.

Any information you share is confidential and protected.

We rely upon your responses to qualify for state supplemental funding (nearly $1.5 million in 2020-21), federal internet and telecommunications funding, and teachers grants.

Depending upon your responses, your family could qualify for a variety of valuable benefits, like low-cost internet services.
As you complete your child's back-to-school packet, please remember to submit a fill out a scannable Alternative Household Income Form to your child's school or submit an online form at http://mesd.nlappscloud.com. For frequently asked questions about the Alternative Household Income Form, please see the following link: Alternative Household Income Form FAQs
If you have any questions or need assistance, please contact the administrative office at your child's school or the District's Child Nutrition Services Office at (650) 697-5693 ext. 028.
Food Allergy Statement
Our school district participates in a federally funded Child Nutrition Program and any meals, milk, and snacks served must meet program requirements. Reasonable food accommodations must be made when the accommodation requested is due to a disability and supported by a physician's statement. Reasonable food accommodations may be made for children without disabilities who may still have special dietary needs; a medical statement may be required. If you are requesting a meal accommodation or substitution, please ask your physician to fill out and sign the form available by clicking the link below. If you have any questions, contact the Director of Child Nutrition Services at 650-697-5693 x028.
2021-22 Media Release
For a copy of the 2021-22 Media Release, click on the following link: 2021-22 Media Release
Earned Income Tax Credit Information Act Notification
The California Revenue and Taxation Code (RTC) Section 19853(b) requires local educational agencies (LEA) that operate the National School Lunch Program (NSLP) to annually notify households about the Earned Income Tax Credit (EITC) Information Act. For a copy of this notification, please click on the following link: Earned Income Tax Credit Information Act Communication